Missouri Roofing Company

.
With Roof Bros Restoration, you can enjoy a roof that enhances the value of your home while protecting it from harmful elements. Our roof shingles and installation are backed by the industry's best warranty. The roofers at Roof Bros Restoration install roof materials and underlayment made from the best quality materials for long-lasting results. We offer an industry-leading warranty on both shingles and installation.
Get a

FREE QUOTE


for roofing services
Which roof problem are you experiencing?

A certified installation will ensure your peace of mind
We are honored to have been ranked among the top 2% of Roofing Contractors by Owens Corning. We install shingle roofs that are Owens Corning Factory Certified, which means that the manufacturer of the largest roofing company in the world guarantees the quality of your new roof.

Ensure the long-term durability of your roof
In order to extend the life of your roof, Roof Bros Restoration performs all roofing repairs precisely and accurately.
Roof Bros Restoration provides roofing services for:
Roof Flashing Repair
Chimney Flashing Repair
Roof Ventilation Corrections
Life Expectancy Complications

Roof Punctures
Holes
Emergency Tarping
and much more.
Roof Bros Restoration and Owens Corning

.
We offer the best roofing warranty in the business.
We are proud to use Owens Corning roofing products. Roofing shingles, underlayment and components are among Owens Corning's most popular products. Our roofing systems are better-looking, longer-lasting and flexible to fit each project's needs perfectly.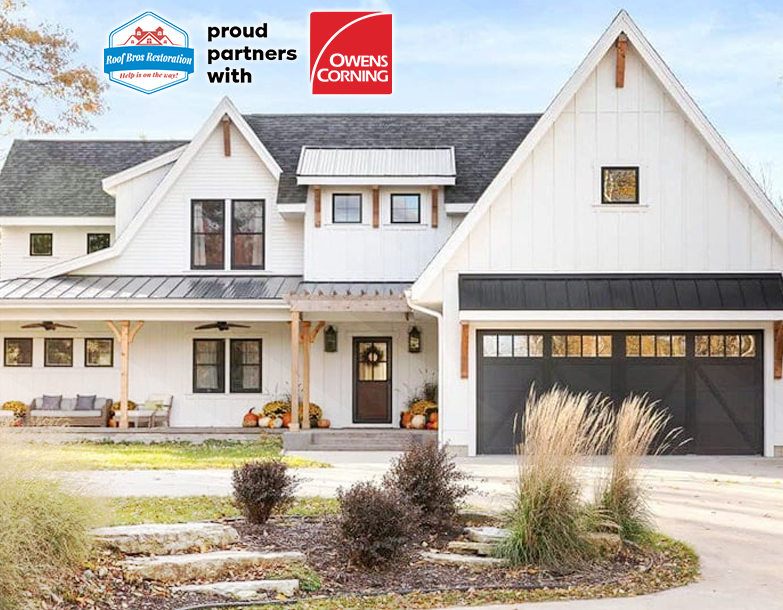 Total Protection Roofing System

.
Roofing solutions, styles and options

.
As different roofing problems require different solutions, we offer a wide array of tailor-made solutions to fit your needs.
Ready for a

FREE

inspection?
Free roof inspections and estimates from friendly helpful people.
Monday – Friday
7:00 am – 7:00 pm
Saturday
9:00 am – 5:00 pm
Here's the plan:
We'll consult with you, by email or phone
We will ask you a few questions and schedule an appointment.
Here's how we can help you
Using the highest quality materials and decades of installation experience, Roof Bros Restoration has built a reputation for reliable experts who provide exceptional service. Each project conducted by Roof Bros Restoration is tailored to fit your needs with the highest quality materials.
A friendly, uniformed consultant conducts a complete roof, siding, and gutter inspection; then our consultant takes measurements to determine if any repair is necessary, all while getting to know your home.
Our team will provide you with cost estimates and a sample that meets your budget and needs. We will help you decide which styles, colors, and price ranges make the most sense for your project.
Cash and checks are accepted, as well as all major credit cards. Monthly payments are affordable, and we can get you approved for financing within ten minutes.
Typically, we order the materials, schedule the installation, process all permits, and take care of the logistics. You only pay to us when the work is completed to your satisfaction.
You decide what works best for you

.
Monday – Friday
7:00 am – 7:00 pm
Saturday
9:00 am – 5:00 pm
Here's the plan:
We'll consult with you, by email or phone
We will ask you a few questions and schedule an appointment.