Roof leak repair in Missouri

.
In addition to our roof leak solutions, it is crucial to detect roof leaks as soon as possible in order to prevent further damage. Even minor roof problems can become roof leaks, resulting in costly interior damage to your home. The most common causes of roof leaks are installation errors and improper maintenance.
Get a

FREE QUOTE


for your roof leak
Among the simplest reasons your roof leaks is due to inadequate installation and workmanship. The area around chimneys, skylights, pipe penetrations, and roof vents is most susceptible to water and snow intrusion.
Deferred or improper maintenance
When the roof leaks become so bad that repairs cannot be performed, the entire roof must be replaced. A leaking chimney may be the source of a roof leak. Degradated pipe jack flashing may also trigger a roof leak. When this occurs, the entire roof must be replaced. There's nothing worse than not knowing you have a roof leak!

Let Roof Bros Restoration inspect your roof. They will measure the area, determine what the problem is, and provide a written report.

Based on a price range, style, and color estimate, you can decide on the design and style that work best for you.

Get your leaking roof repaired
Roof Bros Restoration provides in-home financing, whether you need to replace faulty shingles or repair roof leaks.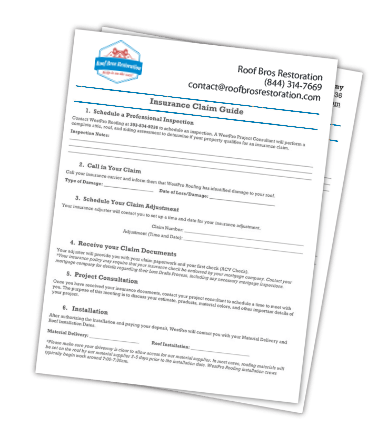 Have insurance claims questions?
Giving you peace of mind for years to come.
You should immediately contact our team if you suspect your roof has experienced damage due to a storm. As your roof is the most important infrastructure element of your space, our team is here to guide you through the process. We know which products work best for Missouri's climate because of our years of experience. We have a specific process we use so that we can assist you with roof repair or replacement that is economical and suitable for your needs.
Here's how we can help you
Using the highest quality materials and decades of installation experience, Roof Bros Restoration has built a reputation for reliable experts who provide exceptional service. Each project conducted by Roof Bros Restoration is tailored to fit your needs with the highest quality materials.
A friendly, uniformed consultant conducts a complete roof, siding, and gutter inspection; then our consultant takes measurements to determine if any repair is necessary, all while getting to know your home.
Our team will provide you with cost estimates and a sample that meets your budget and needs. We will help you decide which styles, colors, and price ranges make the most sense for your project.
Cash and checks are accepted, as well as all major credit cards. Monthly payments are affordable, and we can get you approved for financing within ten minutes.
Typically, we order the materials, schedule the installation, process all permits, and take care of the logistics. You only pay to us when the work is completed to your satisfaction.
More roof problems you could be experiencing

.
You decide what works best for you

.
Monday – Friday
7:00 am – 7:00 pm
Saturday
9:00 am – 5:00 pm
Here's the plan:
We'll consult with you, by email or phone
We will ask you a few questions and schedule an appointment.