Your hail damage repair contractor in Missouri

.
The hailstorms in Missouri that can cause damage to roofing, siding, gutters, & windows are common. Roof Bros Restoration has performed thousands of hail damage roof inspections throughout Missouri.
Get a

FREE QUOTE


for hail damage
Hail damage on your roof?
Hail damage is obvious when shingles are torn off the roof or tree branches fall, but minor damage can be difficult to spot. Get a roof inspection from a trained professional to assess the damage on your roof.
Your gutters are the most likely place to find hail damage. High-impact hail will dent your gutters and/or downspouts most commonly, so check them first when looking for signs of roof damage. It is likely that you will have problems with your roof if you have dents and dings in your gutters and downspouts.
As shingles shed granules when hail hits them, gutters can also clog due to granules. Overflowing and clogged gutters can indicate your roof has been damaged by hail.
Your siding is the second place you should look for signs of hail damage. Your deck is also a good indicator of shingle damage after a bad hailstorm. You should get your roof inspected if your siding or deck have hail damage.

Asphalt shingle roofs can easily be damaged by hail up to 1" wide (nickel size), but the extent of the damage may vary depending on the roof type, age, and condition.

Signs of damage from the ground
Generally,
hail
damage
results
in
a
substantial
accumulation
of shingle granules (similar to coarse sand) in your gutters or downspouts after a hailstorm
.
A
roof
inspection
should
be
scheduled
immediately
if
you
notice
dark
,
black
circles
on
your
shingles
.
How does hail damage your roof?
Learn how hail can damage your roof.
Different factors can affect the extent of hail roof damage: hail size, wind speed, wind direction, roof material, age and slope all affect the potential amount of roof damage that may occur during a hailstorm. When hail damages a roof, it can lead to leaks and other problems.
Damage can be functional or cosmetic, and the cosmetic damage can be more severe than it looks. Broken edges, bruises, punctures, and granule loss are examples of cosmetic problems that can be much more serious than they seem.
Granule loss at points of impact, accompanied by surface depression, can expose the asphalt coating directly to the elements. Loss of mineral granules as a result of storm damage can occur immediately or over time.
A fiberglass mat exposed after hail damaged the granule-asphalt surfacing and caused it to come away from the fiberglass mat.
Fractured fiberglass mats may result in tears radiating out from their points of impact. Hidden cracks and tears may eventually develop when the shingles age.
Damage to the self-seal strip that might not be immediately visible, but might weaken the seal integrity, potentially leading to future shingle blow-offs.

Call Roof Bros Restoration for a free roof inspection. We will perform a comprehensive inspection, take measurements, and identify the problem.

Water may enter your house through severely hail-damaged shingles or cracked skylights. Roof Bros Restoration technicians will secure temporary tarping over problem areas to keep water out while you determine your next step.

Your hail damage roof repair options and your homeowner's insurance coverage will be explained to you. We can help you navigate the insurance claim process, provide you with hail damage roof replacement options, and get to work immediately.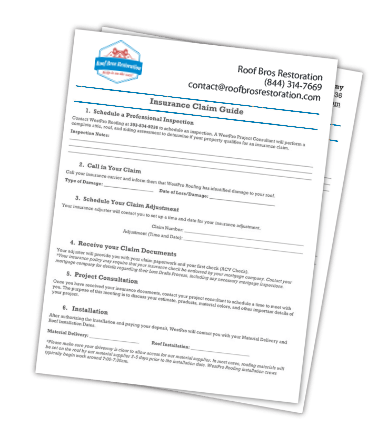 Have insurance claims questions?
Giving you peace of mind for years to come.
You should immediately contact our team if you suspect your roof has experienced damage due to a storm. As your roof is the most important infrastructure element of your space, our team is here to guide you through the process. We know which products work best for Missouri's climate because of our years of experience. We have a specific process we use so that we can assist you with roof repair or replacement that is economical and suitable for your needs.
Here's how we can help you
Using the highest quality materials and decades of installation experience, Roof Bros Restoration has built a reputation for reliable experts who provide exceptional service. Each project conducted by Roof Bros Restoration is tailored to fit your needs with the highest quality materials.
A friendly, uniformed consultant conducts a complete roof, siding, and gutter inspection; then our consultant takes measurements to determine if any repair is necessary, all while getting to know your home.
Our team will provide you with cost estimates and a sample that meets your budget and needs. We will help you decide which styles, colors, and price ranges make the most sense for your project.
Cash and checks are accepted, as well as all major credit cards. Monthly payments are affordable, and we can get you approved for financing within ten minutes.
Typically, we order the materials, schedule the installation, process all permits, and take care of the logistics. You only pay to us when the work is completed to your satisfaction.
More roof problems you could be experiencing

.
You decide what works best for you

.
Monday – Friday
7:00 am – 7:00 pm
Saturday
9:00 am – 5:00 pm
Here's the plan:
We'll consult with you, by email or phone
We will ask you a few questions and schedule an appointment.